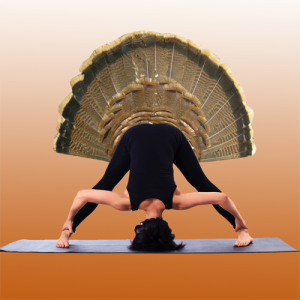 Its that time of year again...
Get your Body, Mind and Spirit (and Digestive & Immune Systems) ready for this season with the BEST TOOL EVER - your yoga practice!
What:
Turkey to Tree Yoga Challenge!
Complete one challenge per day, complete at least 20 Challenges. (Yes, it IS possible!)
When:
Starts: Thursday, November 23rd
Ends: Sunday, December 24th
Why 1:
Feel totally AWESOME, stay healthy and warm,
have a Happy Smiling Face all winter long!
Why 2:
You can win some AMAZING prizes!
All who Complete the challenge will receive 20% off your next purchase at the studio, includes the following:
clothing, mats, towels, 10 Class Pass, Annual Pass and the single month unlimited (excluding beverages and auto-pay memberships)
AND
all those who complete the challenge will be entered to win 1 free Month of Hot Yoga!
Anyone can participate in this Challenge. The Challenge officially starts on Thanksgiving, November 23rd. The challenge must be complete by December 24th. There are challenge cards at the front desk you can pick up and take home with you to keep you motivated.
There are 36 blocks on the Challenge card, you must complete at least 20. The following are just a few different options on your card:
"Practice 4 days in a row", "Take an extra long savasana after class", "Practice at 9:30 am", "Like Hot Yoga Twinsburg on Facebook"
This challenge will help you take on ALL those Holiday Parties, Crazy Shoppers and OMG - the Christmas Music!
Sign up at the front desk!
WARNING: This Yoga MAY change YOUR LIFE!!!
See you in the Hot Room!